THE CANCER KICKERS BIG BUFFALO 50
March 23, 2024
Shelby Farms Park
We will be back with amazing swag this year! Every runner will receive a hooded sweatshirt + a trucker hat in an all-new color scheme.
The Cancer Kickers Big Buffalo 50 is the largest annual fundraiser for the Cancer Kickers Soccer Club. CKSC is a local 501c3 founded in 2016 by Michelle and Chris Clothier. The organization is committed to providing comfort, community, and connections to children around the world who are battling cancer. To date, the Cancer Kickers Soccer Club has provided over 2,500 kits to deserving children.
We would love to have the help of the Memphis running community! At registration, you will have the opportunity to make a donation to the Cancer Kickers Soccer Club. Every single dollar donated goes directly to the organization. It costs $300 to provide one child with a kit. That means that each relay team that registers is supporting a child battling cancer! Additionally, every four 50k runners and every three 50 mile runners that register are also supporting a child. We would be so grateful to have your financial support. Every dollar counts, no matter how large or small your gift! Together, we can make a significant impact on the lives of these brave kids!
Course Map
50 MILE (8 LAPS) 50K (5 LAPS)
The 50 mile course will close 12 hours after the start of the race which will be 6pm in the evening. The 50k course cut off is 10 hours or 6pm and the Relay is 8 hours or 6pm.
Aid Stations
There are 3 aid stations on course. Each aid station will provide water & Hammer Nutrition Heed Electrolyte Drink. We will have: GU's (both rocktane and regular) & Hammer gels; lays; PB&J's; oranges; bananas; Oreos; granola bars; snickers; and gummies.
Relay Details
Relay Starts @ 10am
Relay team members can pick up at any time during the race. Only the member running the first leg must pick up before 10am to be ready to start the race.
The relay team member running the first leg will pick up your timing chip for the team. This will be what you exchange.
The Relay exchange is located just beyond the Start/Finish/Split Line.
Relay runners will only exchange an ankle chip as part of the relay.
Teams with less than 5 runners will mean that someone on the team will have to run multiple loops. There is no additional exchange for teams of less than 5 members.
Teams are encouraged to bring tents, coolers, chairs, and tailgate gear to make themselves at home while others are running.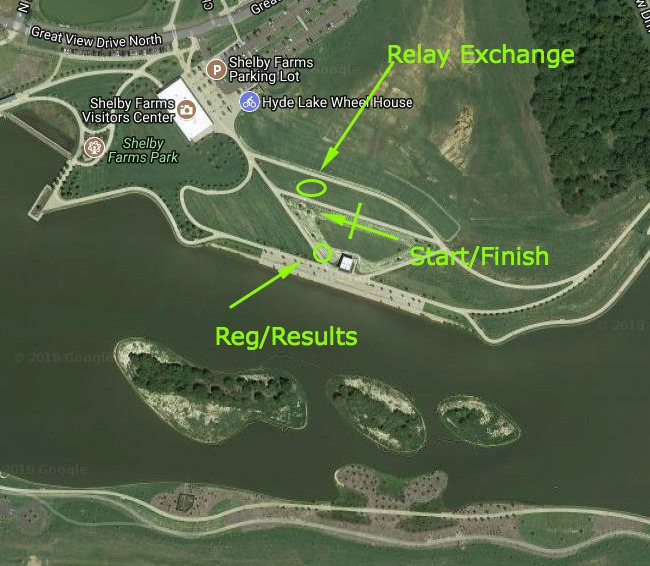 Contact information
Event contact

Start 2 Finish Event Management

Phone

901-274-2202